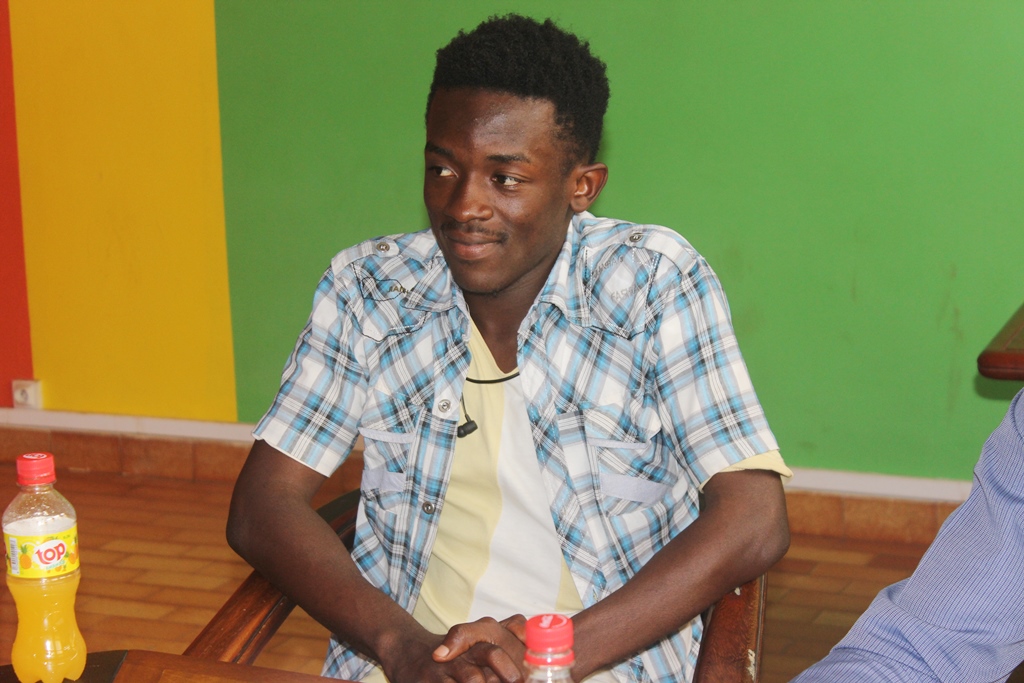 His Live
Born on December 6th 1990 at Yaoundé, Gilles Samen comes from the West region of Cameroon and is from a modest family. When he was in class 3, his mother saw his scribbles and immediately she detected that his way of drawing was highly different from that of another child of the same age. At the age of 8, Gilles creates some comic strip and even add dialogue to them. Gilles lives high school in Form 4 that is"3eme" for francophone and get in the world of business. He had always been encouraged in his passion by his parents and brothers.  Due to financial problems Gilles only starts painting at the age of 21 yrs old. He says: "During this period, things were not really easy for me. I did not have appropriate material, and I was using paint used for buildings to do my paintings". Today, Gilles has Michel CONAC as God father and Claude WAMBA as his artistic coach.
His Work
In 2012 Gilles has one of his canvas "villager going to the market" exhibit at SIARC (International Room for Arts and crafts of Cameroon) 2012. "Me Ne" is the first exposition of this young talented painter and it is made up of 23 paintings. I am sure you people are asking yourself "why did he choose the name "Me Ne" meaning "I am" in Ewondo than in his own mother tongue?"
Gilles answered "Me ne which means I am in English is almost understood by all Cameroonians. Me ne, me Gilles SAMEN I exist through my paintings but also as a citizen. Me SAMEN, I am Bamileke, you my brother, you have other origins. Me I am a Painter. You too you are and you do your own work. Everybody can say ME Ne…"
His paintings are figurative and most of the time, these paintings have a specific theme, it can be the theme of suffering, poverty, love, community live etc.
Invitations
So all Cameroonians who love culture are urged to come and see his paintings at the Private view "Me Ne" on Friday 21st, August 2015 as from 6:30 pm at the Foundation Solomon TANDENG MUNA at Yaoundé. Art exhibition is from the 24th– 28 of August from 10am to 5pm.
Contacts
Gilles Samen: (+237)650 899 672/ 695 523 001 gilleskeba@yahoo.com
Par Michele Fante
Commentaires
0 commentaires
Retrouvez-nous sur les réseaux sociaux:
INSTAGRAM:
https://instagram.com/culturebeneofficiel
FACEBOOK:
https://www.facebook.com/culturebene
TWITTER:
https://twitter.com/culturebene
EMAIL: culturebene@declikgroup.com